DONATE TO THE AMA'S INDIGENOUS MEDICAL SCHOLARSHIP TODAY!

The AMA Indigenous Medical Scholarship supports Aboriginal and Torres Strait Islander students to study medicine and achieve their dream of becoming doctors.
You can now donate towards the Indigenous Medical Scholarship, and support an Indigenous medical student throughout their medical degree.
For less than the cost of one coffee, you can help realise an Indigenous medical student's educational goals.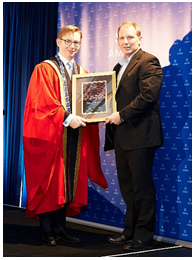 2016 AMA Indigenous Medical Scholarship winner, Darren Hartnett
Winner of the 2016 Indigenous Medical Scholarship, Darren Hartnett, said "seeing…how I could make an impact on someone's life, in a less fortunate situation to mine, was a very powerful experience". 
The AMA currently offers one Scholarship each year to an Aboriginal and/or Torres Strait Islander student who is studying medicine at an Australian University. We would like to increase the number of Scholarships each year, so we can support more Indigenous medical students to become doctors.
The value of the Scholarship is $10,000 per annum, for the full duration of a medical degree. 
DONATE TO THE AMA'S INDIGENOUS MEDICAL SCHOLARSHIP TODAY! 
TO DONATE PLEASE DOWNLOAD THE DONATION FORM AND RETURN IT TO indigenousscholarship@ama.com.au. 
With your help the AMA can continue to support Indigenous medical students and grow the number of Indigenous doctors. 
Further information about the Scholarship go to: https://ama.com.au/advocacy/indigenous-peoples-medical-scholarship or contact the AMA via email at indigenousscholarship@ama.com.au or phone (02) 6270 5400. 
The Scholarship was established in 1994 with a contribution from the Australian Government 
The AMA would like to acknowledge the contribution of the Reuben Pelerman
Benevolent Foundation and also the late Beryl Jamieson's wishes for donations towards the Scholarship
Related document (Public):
Indigenous Medical Scholarship Donation Form.pdf
(382.38 KB)
---